Croatian Influences - The Paintings of Đuro Pulitika
Jan 30, 2020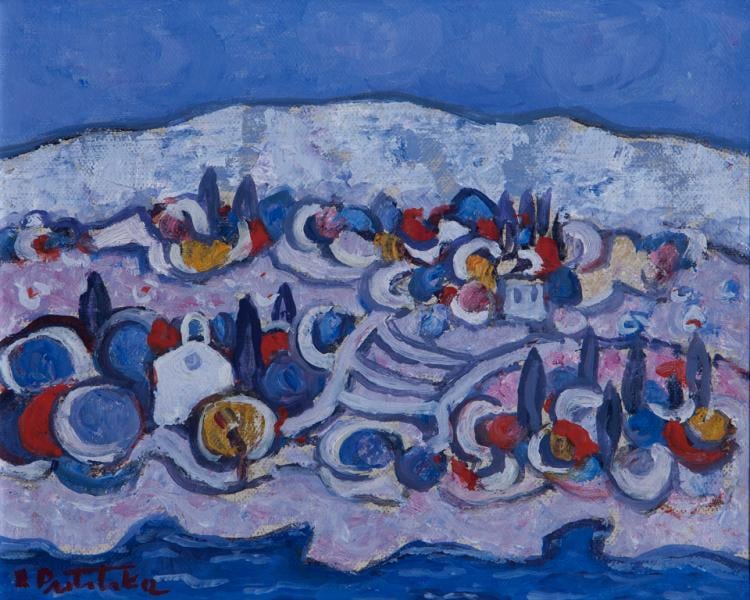 I'd like to introduce you to the work of Đuro Pulitika (1922 – 2006}, a Croatian artist whose landscapes and colors have influenced my own work. Pulitika's paintings are not well-known in the US. While researching this blog post I discovered that he doesn't even have an English language Wikipedia page and his Croatian page is far too brief. However, his original paintings as well as prints, are well represented in online auction sites and galleries. In order to see a good collection of his works in person you'll need to visit his hometown of Dubrovnik.
Unlike Ivan Rabuzin (see my previous post) and many of the other Croatian painters whose work I love, Pulitika is not a self - taught naïve artist. He enrolled in the Academy of Fine Arts in Zagreb in 1941 but soon returned to Dubrovnik. While I don't know the details of his time at the Academy, I'm assuming that the Nazi occupation of Zagreb in April of 1941 made it an unpleasant place for anyone, but especially for a young painter whose style would eventually reflect the influence of artists such as Andre Derian, Henri Matisse and others whose work was considered "degenerate" by the Nazis. Eventually Pulitika continued his education at the Cetinje Art School and graduated in 1950. By the 1970s he became a fixture in the Croatian (and Yugoslav) art scene and spent the rest of his life living and painting in the vicinity of Dubrovnik. He exhibited throughout Europe and had at least one exhibition in New York City.
Đuro Pulitika's paintings go well beyond the physical characteristics of his subjects to provide a uniquely colorful expressionistic interpretation of the pastoral Dalmatian landscape as it once appeared, complete with villages and small farms that are pictured in front of ubiquitous hills and mountains. In these stunning landscape paintings, he renders ordinary villages, fields and their surroundings almost surrealistically luminescent while often entwining them with intriguing serpentine paths and circular forms. He also gives us a moody glimpse into 20th century life in Dubovnik, a town which has always attracted historians and sightseers, but in recent years has lost much of its old school charm due to excessive tourism. Through his fauvist inspired use of color Pulitika captures the timeless melancholy of small dimly lit rooms in the old part of Dubrovnik where generations of local families have lived for centuries. There's an intimacy in these paintings that is many decades away from the crowded tourist attraction that is today's Dubrovnik.
Đuro Pulitika, along with artists Antun Masle and Ivo Dulčić, comprise the Dubrovnik Colorist School. Their paintings are well represented in the Dulcic Masle Pulitika Gallery located, naturally, in Dubrovnik's Old City. All three artists' works are part of the permanent collection of the Museum of Modern Art, Dubrovnik. Recently the Museum has acquired and opened Pulitika's studio to the public. I'll be taking a trip to Dubrovnik just for that!
Below you'll find a selection of Pulitika's paintings that I have scavenged from art auction sites and tourist websites. Sadly, some of these sources do not include titles or dates. If you're a fan keep an eye out for the book, simply titled Duro Pulitika by Antun Karaman (pub. 1998). It includes some wonderful reproductions of his work. (Unfortunately my own copy is in storage while our apartment is being renovated.)
For more online sources of Pulitika's work see the following links:
Museum of Modern Art, Dubrovnik (Croatian language) : http://ugdubrovnik.hr/index.php?file=naslovna
(English Language): http://ugdubrovnik.hr/en/?file=home