Croatian Influences - The Paintings of Ivan Rabuzin
Jan 21, 2020
It was just after my 16th birthday when I first saw Ivan Rabuzin's work. We were in Zagreb, visiting my uncle, who had one of his paintings hanging on the wall. It was incredibly beautiful and I became completely absorbed. There was something infinite about Rabuzin's art that made an indelible impression on me. Since I paint intuitively, I am not always immediately aware of the artists who influence my style. In this case, I didn't recognize the powerful impression Ivan Rabuzin made on me until recently when, upon returning to California, my work took on a surrealist landscape quality.
While not well known in the US, Ivan Rabuzin is a significant figure in the world of Croatian and Yugoslav Naïve painting, which is a genre representing self-taught outsider artists. He was born in 1921, the sixth of eleven children, to a mining family in the vicinity of Varazdin, a picturesque area of northern Croatia. Earlier in his adult life Rabuzin worked as a carpenter and like many artists, painted in his free time. By 1963, at the age of forty-two, Ivan had developed his signature lyrical landscape style and gained enough recognition to be able to give up his day job and paint full time.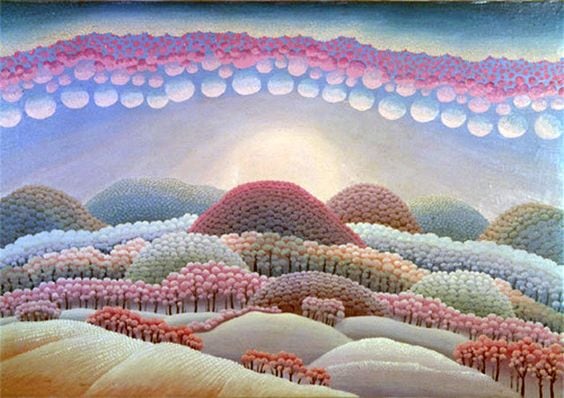 Ivan Rabuzin, Dry Winter, 1974
During his lifetime, Rabuzin's work was well known, of course, in his homeland of Croatia and the former Yugoslavia. However he also captured the attention of the international art world. Anatole Jaovsky, French art critic and founder of a Museum of Naïve Art in Nice, considered Rabuzin, "one of the greatest naïve painters of all times and [all] countries." He was also commissioned by the German porcelain company, Rosenthal, (along with Dali and Vaserely) to design dinnerware under their Suomi label. Along with several other Croatian naïve artists he enjoyed success in Japan where one of his designs was used for the curtain in Tokyo's Takarazuka Theater.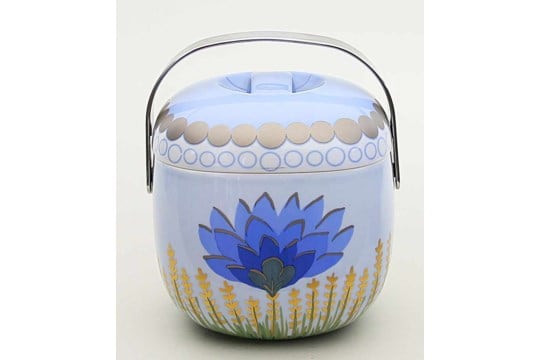 Bowl designed by Ivan Rabuzin for Rosenthal
Not surprisingly scholars have intellectualized Rabuzin's approach to landscape painting by implying that he consciously reduced natural forms into their nearest geometric shape. Right angles are rare in nature, so his paintings are full of spherical shapes, arranged in patterns that gently imply perspective and horizon. He often breaks from any conventional perspective when depicting giant flowers amongst trees, arranged in harmonious patterns. When he includes buildings, usually villages, they are secondary to nature and are used to visually enhance his version of the natural world.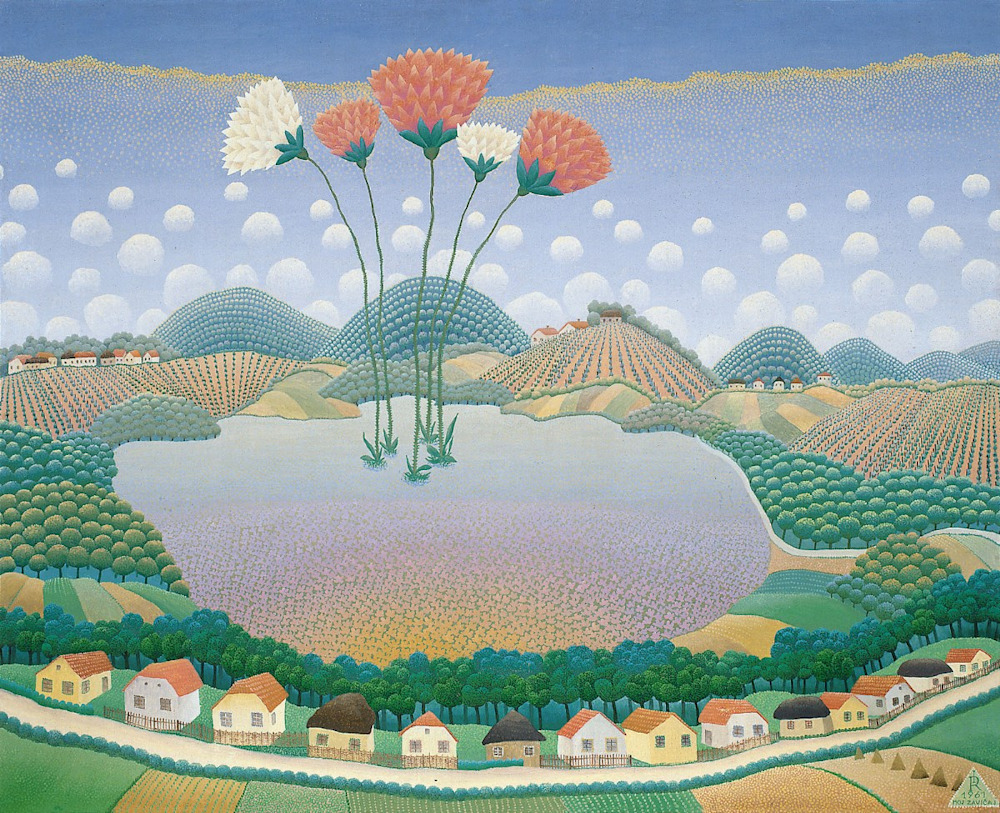 Ivan Rabuzin, My Homeland 1961
While Rabuzin's work is controlled and technically precise, it also has a powerful meditative quality. His hills, clouds and flowers don't feel like conclusions reached through conscious intellectual thought, but spring from an intuitive process. His work is distinctive, honest, and heart-felt, three qualities that make Rabuzin more than just a "unique" or "interesting" artist, but one who is truly inspiring.
As you can see below, there are hints of Rabuzin in my own work. While inspired by the hills and mountains of Southern California to create these paintings, upon reflection, I can see how the art at my uncle's house, made an indelible impression on me.
Marilyn Cvitanic, Meadowlark West, 2018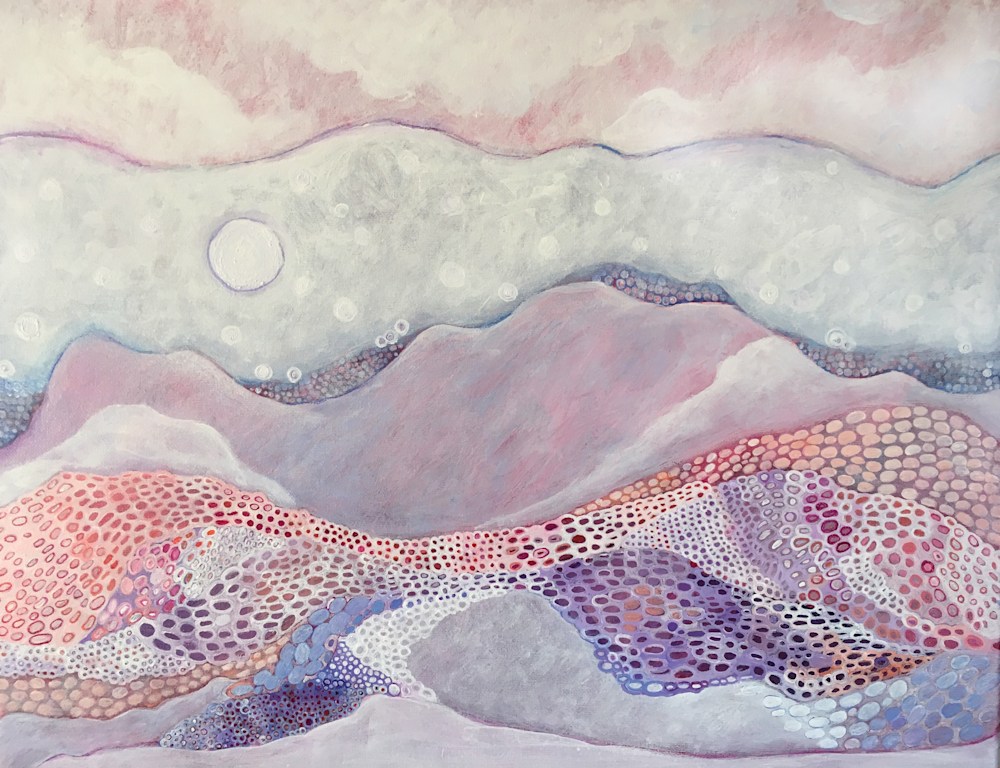 Marilyn Cvitanic, Summer Snowfall, 2019
To see more of Ivan Rabuzin's work see the Croatian Museum of Naïve Art webpage: http://www.hmnu.hr/
To see more of my work and read additional blog posts go to my online gallery: https://www.marilynpaints.com/