Discovering the Paintings of Vangel Naumovski
May 26, 2020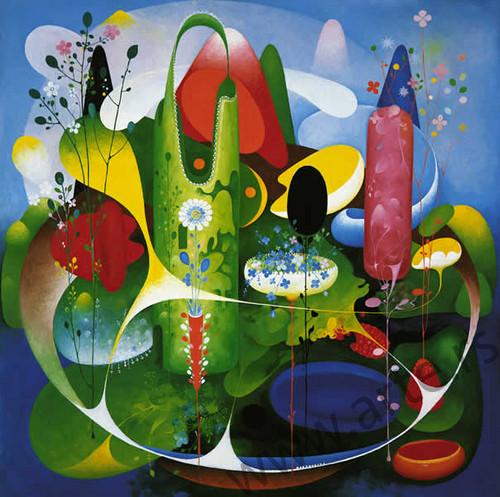 This is the image that started it all, The Sadness and Tears of Tsar Samuel in Full Bloom, 1968
When I last visited the Museum of Naïve Art in Zagreb, Croatia, (2019) I bought a postcard of a painting by Vangel Naumovski. I hadn't noticed any of his work on exhibit, but this postcard jumped out at me, probably because it reminded me of The Garden of Earthly Delights (c. 1495–1505), the famous triptych by Hieronymus Bosch. While Naumovki's piece was almost completely abstract, the forms and colors reminded me of semi-organic structures that appear in the middle panel (the delights) in Bosch's masterpiece. When I came home, I unpacked the postcard and displayed it above my studio worktable. I never get tired of looking at, and I know that it influences my work.
Despite the awesome quality of Naumovski's painting, he remains relatively obscure. During my many trips to Croatia and my ongoing interest in art of the former Yugoslavia, I never came across another piece by Naumovski, nor did I hear anything about him. Thanks to the ongoing COVID-19 stay-at-home orders, I finally have had the time to do a little research.
The basics of Naumovksi's early life are as follows: He was born in 1924 in the Macedonian (then Yugoslav) town of Ohrid and quit school before his tenth birthday. After working a series of odd jobs and a stint in the military, he attended art school in Skopje for about a year. Afterwards he became a carpenter and woodcarver, all the while painting in a simple folk style. His lack of formal education and his early technique led to his classification as a naïve artist.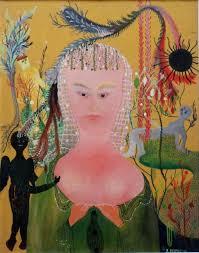 Temptation, 1959
Naumovski began exhibiting his work in the 1950s but didn't develop his signature biomorphic abstract style until the 1960s. I don't know if he was aware of The Garden of Earthly Delights or the painting of his contemporaries, such as Dali or Miro whose work bears some similarity to his own. There are records of one-man shows in London, New York, Toronto, Rome and Paris, where in 1970 Dali saw Naumovski's paintings and was sufficiently impressed to comment that, "… the work is close to my own." Ultimately, I believe that one of the most interesting and direct influences arose from his work at the Orhid Marine Biology Institute where he was employed during the late 1960s, drawing indigenous microscopic plant and aquatic life. Many of his paintings have a floating quality, with a slow graceful sense of movement, as though the scene is taking place underwater.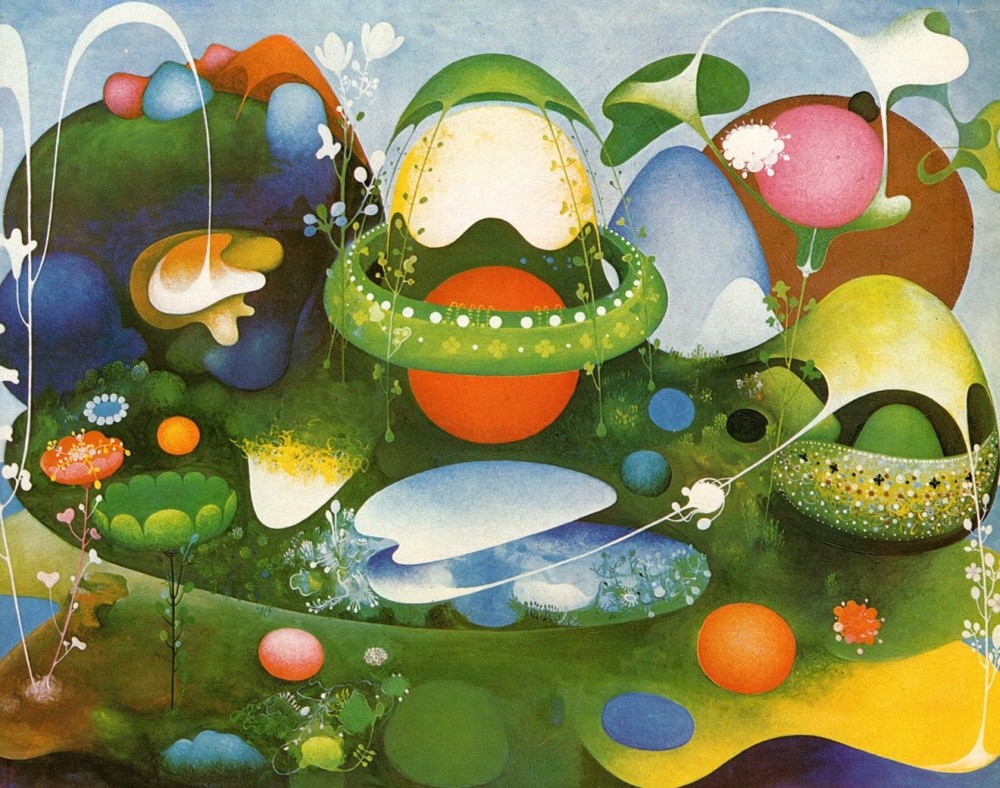 Melts in Your Mind, 1978
In addition to painting, Naumovski published a book of poetry in 1970 - Poems About My Artistic Roots, (Poema o korenima mojeg likovnog izraza). A book about his work was published in 1984, the English version is entitled simply entitled Vangel Naumovski. Not surprisingly, both books are quite rare and out of my price range. But perhaps the best way to observe the evolution of Naumovski's work is to watch a short YouTube video of his work, presented in nearly chronological order:
https://www.youtube.com/watch?v=atZx13R1rtQ
I also just discovered a one-hour long video interview that was conducted in 1983 for local Macedonian television. Again, YouTube to the rescue:
https://www.youtube.com/watch?v=Ztd_tGy4pQc
The interview is in the Serbo-Croatian language of the day, including some local Macedonian vernacular. I should be able to translate the full hour, and will let you know as soon as I can. Thus far, I've understood that he speaks about his early life and his motivation to become a painter. There are also sculptures in the background that appear to be his. Between the video and books Naumovski's life until the late 1980s is well documented. But what happens between then and 2006? I'm trying to find out. More to come!