Wish You Were Here
May 01, 2020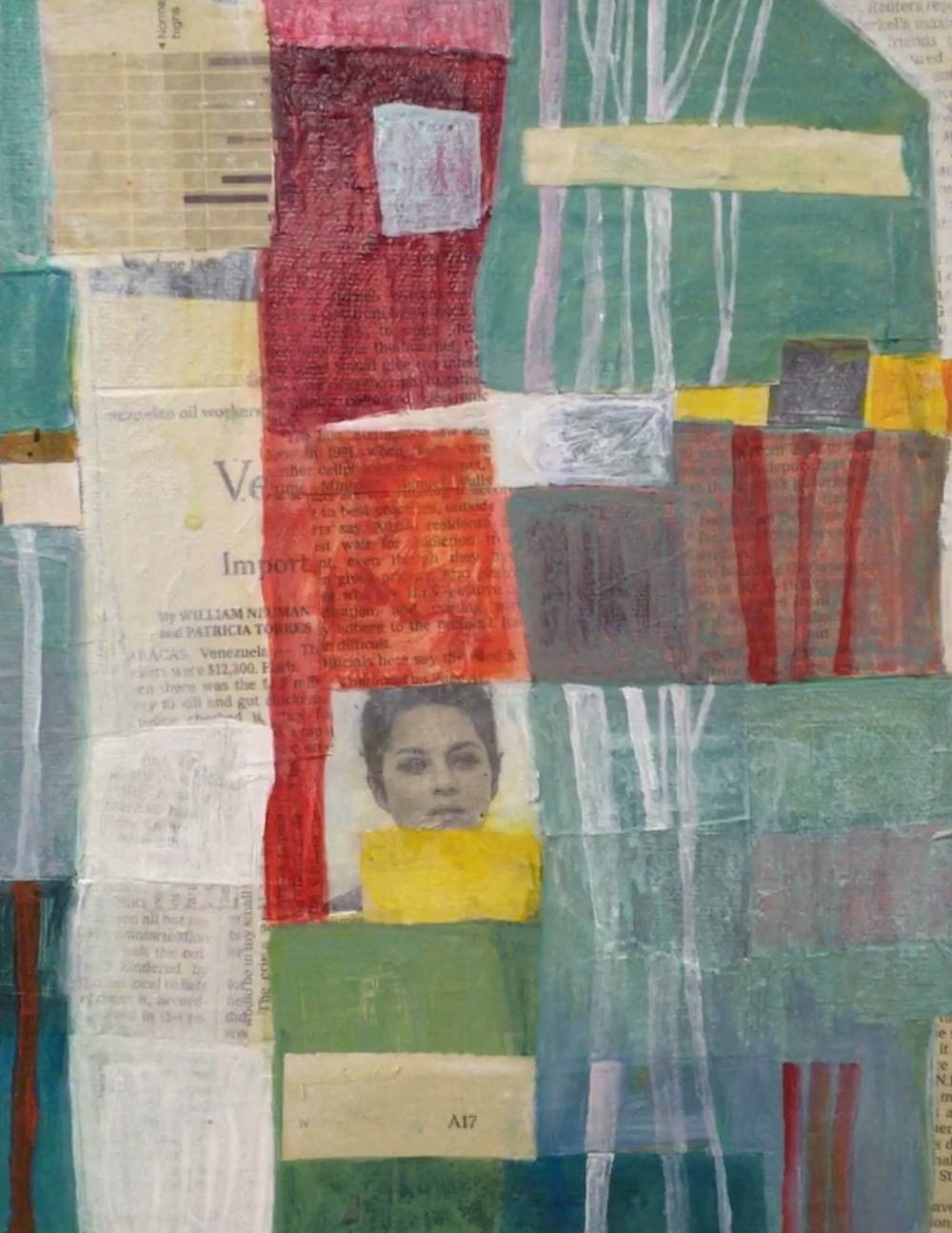 Wish You Were Here, 2014-15
I came across this collage in March when I was briefly in NYC. That's where my studio is, along with most of my artwork. I was planning to return to NYC to resume work in April, but the pandemic is keeping me and John in Los Angeles. In the meantime, this image stuck with me and I posted it on Instagram a few weeks ago. Several people were sufficiently intrigued to reach out and ask me about it.
Being a spontaneous and process-oriented artist, I often begin with just a few colors and a vague notion of composition. I rarely have a grand message or even a visual plan that I stick to. My work is far more intuitive than analytical. The final image evolves until it feels like a coherent whole. This process can take a few hours, days, or I can rework a painting over the course of several years.
I believe this piece dates to 2014 or 2015, and to the best of my recollection, I did not have a particular vision, but, as usual, I did have a palette. Gradually, I found myself creating an expression of separation. Given the colors I was using, this wasn't a negative impulse, but simply a reflection of my day to day existence. I tried to convey the way one feels while looking out at a busy world from the shelter of an upstairs apartment - a combination of safety, seclusion, and the luxury of being an urban observer.
Events can change the meaning of a poem, a song or a work of visual art. That's what happened to me here. Now, with the isolation we are all experiencing during the COVID 19 pandemic, this image evokes a sense of longing, an unfulfilled desire for community. Perhaps that's why it lingered so predominantly in my thoughts after I returned from New York. When I heard Pink Floyd's "Wish You Were Here" for the umpteenth time the other day, I realized that I had a new understanding, and new title, for a piece of artwork that resonated more clearly than ever before.
As of April 30th Wish You Were Here is available as a print on my website, https://www.marilynpaints.com/
The original is still in my NYC studio. I hope to be back there when it is safe to return, probably not for a couple of months at least. Meanwhile my print sale is continuing until May 8th.